Report of the Massive Open Online Course on Teaching Chemistry with Technology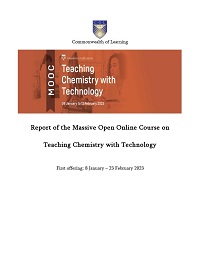 Files
Authors
Editor
Publisher
Commonwealth of Learning (COL)
Abstract
The Teaching Chemistry with Technology (TCT) Massive Open Online Course (MOOC) was developed by the Commonwealth of Learning (COL). The TCT MOOC was held from 8 January to 12 February 2023 and aimed to introduce teachers, student teachers, teacher educators, instructional designers to virtual simulations, primarily focusing on the physics education technology (PhET) open access simulations developed by the University of Colorado, USA. The course explored the integration of these simulations into chemistry education for active learning.
The course attracted 1337 registrants, with diverse gender representation (508 female, 825 male, 4 undisclosed). Of these, 769 engaged with the mooKIT learning management system. Participants meeting quiz-based requirements received Certificates of Participation, while those crafting original TCT lesson plans or worksheets earned Certificates of Completion. A total of 296 certificates were awarded, representing a certification rate of 22.1%.
Feedback indicated strong participant satisfaction, evidenced by high engagement levels, positive survey responses, and active involvement in discussions and resource sharing. The MOOC fostered a sense of community among participants, facilitating both chemistry and online teaching learning. While adjustments to assessment methods and live sessions were suggested for future offerings, the overall sentiment highlighted the course's value to the global chemistry teaching community. This report, authored by Dr. Nathaniel Ostashewski for the Commonwealth of Learning, encapsulates the successful debut of the TCT MOOC.
Subject
Open Educational Resources (OER)
,
Pedagogy
,
Teacher Education
,
Technology-Enabled Learning (TEL)
,
Science, Technology, Engineering and Mathematics (STEM)
Collections