Let a Thousand Flowers Bloom!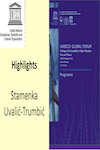 Editor
Publisher
Commonwealth of Learning (COL)
Abstract
UNESCO GLOBAL FORUM, Rankings and Accountability in Higher Education: Uses and Misuses, UNESCO, Paris, 16-17 May 2011, Let a thousand flowers bloom! Remarks at the closing session, Stamenka Uvalić-Trumbić, UNESCO & Sir John Daniel, Commonwealth of Learning // After one and a half days of intense deliberations both in the meeting room and in the halls and gardens of UNESCO, we have come to our concluding session. Sir John Daniel and I have the challenging task of suggesting some highlights for your consideration. Before I begin, let me thank and congratulate all speakers, moderators, chairs and colleagues for the dynamic debates that were conducted.
Subject
Higher Education
,
Cross-Border Education
,
Policy and Legislation
Collections